Demons Lyrics – Doja Cat (with Meaning)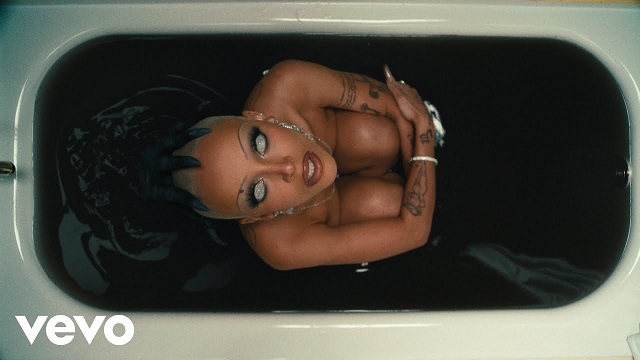 Demons Lyrics
D.A. Got That Dope
Ha Yeah Ayy
Yeah How My Demons Look How Your Demons
Now That My Pocket's Full Ayy Yeah Ayy
How My Demons Look Ayy Yeah
Now That You Bitches Shook Bi*ch
Yeah How My Demons Look Ayy Yeah
Now That My Pocket's Full Yeah Ayy Yeah Yeah
How My Demons Look Bitch Ayy
Yeah Now That You Bitches Shook
I Am On To Bigger Things Hmm
I Just Bought A Limousine A Limousine
You Live Like Me In Your Dreams Yes You Do
I Just Quit The Nicotine I Did
If You Throwing Dick At Me Do It Nigga
That Shit Should Be Big At Least Do It Nigga
Nigga I'Ma Bring The Heat
I'Ma Bring The Cold
You Should Bring Your Skis
I'm A Fuckin' Queen Queen
I Am Expeditiously See It Bitch
Are You Off A Key You Off A Key
I Would Never Let You In My V.I.P
We Are Enemies We Are Foes
Who Are You And What Are Those
You Are Gross
Percocet Got You Playing With Your Nose
Yeah Eh
How My Demons Look How Your Demons
Now That My Pocket's Full Ayy Yeah Ayy
How My Demons Look Ayy Yeah
Now That You Bitches Shook Bitch
Yeah How My Demons Look Ayy Yeah
Now That My Pocket's Full Yeah Ayy Yeah Yeah
How My Demons Look Bitch Ayy
Yeah Now That You Bitches Shook
I'm A Puppet I'm A Sheep I'm A Cash Cow
I'm The Fastest Growing Bitch On All Your Apps Now
You Are Tired Of Me Coz I'm On Your Ass Now
You Are Mad At Me Coz I Am All They Slap Now
I Can Nap Now
Lots Of People That Were Sleeping Say I Rap Now
Lots Of People's Hopes And Dreams Are Finally Trashed Now
Lots Of People Say They Met Me In The Past Now
I Done Took The Spotlight And Made 'EM Black Out
I Done Took The Whole Dick And Blew My Back Out
I Just Swallowed All His Kids And Spit The Class Out
I Take The Trash Out Mm
I'm Finna Cash Out Uh
Bitch Do Not Pass Out
Yeah Eh
How My Demons Look How Your Demons
Now That My Pocket's Full Ayy Yeah Ayy
How My Demons Look Ayy Yeah
Now That You Bitches Shook Bitch
Yeah How My Demons Look Ayy Yeah
Now That My Pocket's Full Yeah Ayy Yeah Yeah
How My Demons Look Bitch Ayy
Yeah Now That You Bitches Shook
Demons Music Video
Demons Lyrics Meaning
Ha Yeah Ayy
Yeah How My Demons Look How Your Demons
Now That My Pocket's Full Ayy Yeah Ayy
How My Demons Look Ayy Yeah
Now That You Bitches Shook Bich
Yeah How My Demons Look Ayy Yeah
Now That My Pocket's Full Yeah Ayy Yeah Yeah
How My Demons Look Bitch Ayy
Yeah Now That You Bitches Shook
Meaning: In this verse, the artist seems to be talking about success and wealth. How my demons look may refer to how they view their struggles and challenges now that they've achieved financial success (Now that my pocket's full). The reference to others being shook could suggest jealousy or envy from others who may have doubted the artist's abilities or underestimated them.
I Am On To Bigger Things Hmm
I Just Bought A Limousine A Limousine
You Live Like Me In Your Dreams Yes You Do
I Just Quit The Nicotine I Did
If You Throwing Dick At Me Do It Nigga
That Shit Should Be Big At Least Do It Nigga
Nigga I'Ma Bring The Heat
I'Ma Bring The Cold
You Should Bring Your Skis
I'm A Fuckin' Queen Queen
I Am Expeditiously See It Bitch
Are You Off A Key You Off A Key
I Would Never Let You In My V.I.P
We Are Enemies We Are Foes
Who Are You And What Are Those
You Are Gross
Percocet Got You Playing With Your Nose
Meaning: Here, the artist talks about their success (on to bigger things) and material possessions like a limousine. They may be addressing critics or haters, suggesting that others envy them and live vicariously through their success. The references to quitting nicotine and the importance of making grand gestures (That shit should be big at least do it) may reflect their self-confidence and assertiveness. The mention of being a queen and not letting certain individuals into their V.I.P area suggests a sense of superiority or exclusivity.
I'm A Puppet I'm A Sheep I'm A Cash Cow
I'm The Fastest Growing Bitch On All Your Apps Now
You Are Tired Of Me Coz I'm On Your Ass Now
You Are Mad At Me Coz I Am All They Slap Now
I Can Nap Now
Lots Of People That Were Sleeping Say I Rap Now
Lots Of People's Hopes And Dreams Are Finally Trashed Now
Lots Of People Say They Met Me In The Past Now
I Done Took The Spotlight And Made 'EM Black Out
I Done Took The Whole Dick And Blew My Back Out
I Just Swallowed All His Kids And Spit The Class Out
I Take The Trash Out Mm
I'm Finna Cash Out Uh
Bitch Do Not Pass Out
Meaning: In this verse, the artist addresses their newfound fame and success. They describe themselves as a cash cow and emphasize their rapid rise in popularity, especially in the digital realm (fastest growing bitch on all your apps now). The mention of taking the spotlight and making others black out could signify their dominance in the entertainment industry. The explicit sexual references may also be about asserting control and power in their relationships. Overall, this verse seems to revolve around themes of fame, sexual confidence, and asserting dominance in their field.
If Found Any Mistake in above lyrics?, Let us know using contact form with correct lyrics!
Demons Song Info:
| | |
| --- | --- |
| Song: | Demons |
| Singer(s): | Doja Cat |
| Musician(s): | D.A. Got That Dope |
| Lyricist(s): | Danny Levin, Amala Zandile Dlamini, David L Doman |
| Cast: | Doja Cat |
| Label(©): | Doja Cat |