Dil Tod Ke Lyrics – B Praak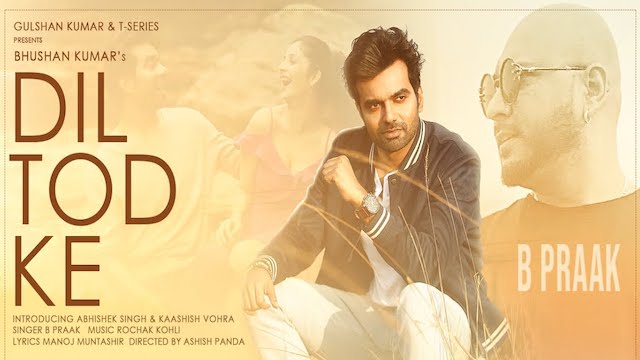 Dil Tod Ke - B Praak
"Sawal Ek Chota Sa Tha Jiske Peeche
Ye Poori Zindagi Barbaad Karli
Bhoolaun Kis Tarah Wo Dono Aakhein
Kitaabon Ki Tarah Jo Yaad Karli"
Tum De Rahi Ho Dil Mein Kisi Aur Ko Jagaah
Lekin Koi Na Chahega Tumko Meri Tarah
Kya Hai Kasoor Mera Jo Dil Se Utar Gaya
Mudd Ke Bhi Na Dekha Mujhe Tumne Ek Dafa
Jaise Gayi Ho Oo, Jaise Gayi Oo
Jata Hai Kya Koi Aise Chhod Ke
Dil Tod Ke
Ho Dil Tod Ke Hasti Ho Mera
Wafayein Meri Yaad Karogi
Oh Fer Lo Mujhse Aaj Nigahein
Kadar Mere Baad Karogi
O Dil Tod Ke, Ho Dil Tod Ke
Wo Tum Hi To Thi Jo Baar Baar Aake
Lagti Thi Gale Mere
Wo Tum Hi To Thi Jo Baar Baar Aake
Lagti Thi Gale Mere
Wo Bhi Tum Hi Thi Har Roz Saath Jiske
Din Raat Dhale Mere
Kahan Gayi Tum Oo..
Kahan Gayi Tum Dard Se Mera
Rishta Jod Ke
Dil Tod Ke
Ho Dil Tod Ke, Hasti Ho Mera
Wafayein Meri Yaad Karogi
Oh Fer Lo Mujhse Aaj Nigahein
Kadar Mere Baad Karogi
O Dil Tod Ke, Ho Dil Todd Ke
Ho Galiyon Galiyon Liye Firan
Main Tukda Tukda Dil
Kash Kisi Ne Poochha Hota Kaise Ujda Dil
Ho Galiyon Galiyon Liye Firan
Main Tukda Tukda Dil
o Kash Kisi Ne Poochha Hota Kaise Ujda Dil
Kaise Bhar Di Oo..
Kaise Bhar Di Nadiya Naale
Aankhein Nichhod Ke
Dil Tod Ke Hasti Ho Mera
Wafayein Meri Yaad Karogi
Oh Pher Lo Mujhse Aaj Nigahein
Kadar Mere Baad Karogi
O Dil Tod Ke Hasti Ho Mera
Wafayein Meri Yaad Karogi
Dil Todd Ke, Haye Dil Todd Ke.
"Sirf Dil Toota Hai Saans Nahi
Dhadkano Mein Rawaani Abhi Baaki Hai
Pyar Ka Kissa Khatm Ho Gaya To Kya
Zindagi Ki Kahani Abhi Baaki Hai"
Haye Dil Todd Ke.
Written by: Manoj Muntashir
If Found Any Mistake in above lyrics?, Please let us know using contact form with correct lyrics!