Green Thumb Lyrics (English Meaning) – Post Malone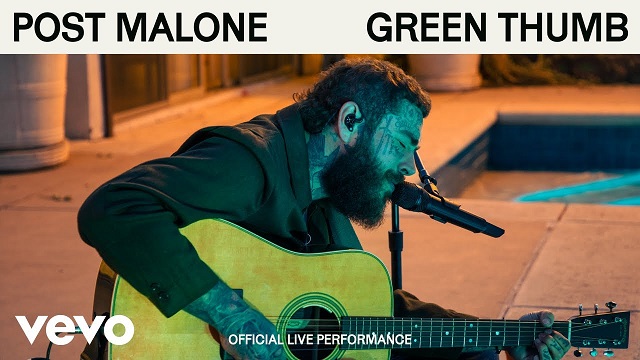 Green Thumb Lyrics
Drove by your house and
Noticed it was overgrown
Your flowers are all dead and
I thought you should know
What happened to your green thumb
That you were so proud of
The bodies were scattered
And starving for love
Starving for love
But one, one, one was on his deathbed
He told me you left long ago, oh no
He said with his last breath
Wake up, she's not coming home
He must be so cool and on a motorcycle
Buy you new flowers to replace what you left
My new love pours herself out more than I like
Her name is Brandy we'll be married tonight
Married tonight
When I, I, I, I'm on my deathbed
I'll remember you left long ago, oh no
I hear the nurse say
Goodnight she's never coming home
Green Thumb Music Video
Green Thumb Lyrics With Meaning
Verse 1:
"Drove by your house and
Noticed it was overgrown
Your flowers are all dead and
I thought you should know"
Meaning: The speaker drove past the person's house and noticed that it appears neglected and overgrown. The flowers in their garden are dead, and the speaker wants to inform the person about the condition of their home.
Verse 2:
"What happened to your green thumb
That you were so proud of
The bodies were scattered
And starving for love
Starving for love"
Meaning: The speaker wonders what happened to the person's gardening skills, as they were once proud of their "green thumb" (ability to grow plants). They use the metaphor of "bodies scattered" to describe the dead flowers that were not cared for and are now "starving for love," indicating they lacked attention and care.
Verse 3:
"But one, one, one was on his deathbed
He told me you left long ago, oh no
He said with his last breath
Wake up, she's not coming home"
Meaning: The speaker personifies one of the dying flowers as being on its "deathbed." This flower seems to speak symbolically and reveals that the person they are singing about has left a long time ago and is not coming back. It serves as a metaphor for a relationship that has ended, and the flower's plea is for the speaker to realize the truth and move on.
Verse 4:
"He must be so cool and on a motorcycle
Buy you new flowers to replace what you left
My new love pours herself out more than I like
Her name is Brandy, we'll be married tonight
Married tonight"
Meaning: The speaker imagines the person they were interested in dating someone else who seems "cool" and rides a motorcycle. This person is willing to give the person new flowers to replace the ones that were neglected. The speaker introduces their new love interest, Brandy, who is very expressive and affectionate, though the speaker seems to have mixed feelings about it. They plan to get married to Brandy.
Verse 5:
"When I, I, I, I'm on my deathbed
I'll remember you left long ago, oh no
I hear the nurse say
Goodnight, she's never coming home"
Meaning: The speaker reflects on their own mortality, imagining being on their deathbed in the future. They will remember that the person they were singing about left them a long time ago. The nurse tells them "Goodnight," implying that the person they once loved is gone and will never return.
Overall, the song appears to describe a failed relationship and the aftermath of neglect and loss. The speaker observes the neglected state of the person's life, reminisces about the past, and expresses mixed emotions about moving on with a new love.
If Found Any Mistake in above lyrics?, Let us know using contact form with correct lyrics!
Green Thumb Song Info:
| | |
| --- | --- |
| Song: | Green Thumb |
| Album: | Austin (Post Malone's Album) |
| Singer(s): | Post Malone |
| Musician(s): | Post Malone, Andrew Watt, Louis Bell |
| Lyricist(s): | Post Malone, Andrew Watt, Louis Bell |
| Label(©): | Post Malone |