Grudge Lyrics (English Meaning) – Anne Marie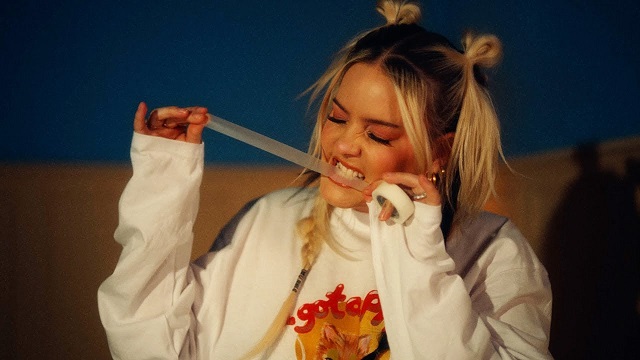 Grudge Lyrics with English Meaning
If you piss me off
Then i'll shrug it off
And i'll probably say
I'm sorry with my fingers crossed
'Cause when I commit
I get away with it
You can tell me all your problems
I won't give a shit
My therapist said
Keep calm and don't react
And the Bible says
Love thy enemy and all that
And my friends all say
That karma's gon' get me back
And I shouldn't hold a grudge
But I wanna
I really really wanna
Hmmmm yeah I'm gonna
'Cause I really really wanna
My list of names Ugh
Rolling off the page
Yeah I don't know why you
Even wanna play these games
Pay me compliments Ahhh
Keep on grumbling Uh uh
'Cause I don't believе
A word you say so suck my dick
My therapist said
Keep calm and don't react
And the Bible says
Love thy enemy and all that
And my friends all say
That karma's gon' get me back
And I shouldn't hold a grudge
But I wanna
I really really wanna
Hmmmm yeah I'm gonna
'Cause I really really wanna
Say I wouldn't do this anymore
But I can't help it I get bored
And it's the only thing that entertains me
I know that it isn't fun
Been looking for a reason why
And deep down I wish I could just stop
But I wanna
I really really wanna
Hmmmm yeah I'm gonna
Haha yeah I'm gonna bitch
'Cause I really really wanna
Don't fuck with me bitch
Grudge Music Video
Grudge Lyrics
Verse 1:
"If you piss me off
Then I'll shrug it off
And I'll probably say
I'm sorry with my fingers crossed"
Meaning: The speaker is saying that if someone angers them, they will pretend to apologize insincerely by saying sorry with their fingers crossed, indicating that they don't truly mean it.
Verse 2:
'Cause when I commit
I get away with it
You can tell me all your problems
I won't give a shit"
Meaning: The speaker admits to getting away with their actions, even when they do something wrong. They also claim not to care about other people's problems or feelings.
Chorus:
"My therapist said
Keep calm and don't react
And the Bible says
Love thy enemy and all that
And my friends all say
That karma's gon' get me back
And I shouldn't hold a grudge
But I wanna
I really, really wanna
Hmmmm, yeah, I'm gonna
'Cause I really, really wanna"
Meaning: The chorus reflects conflicting advice the speaker has received. Their therapist advises staying calm and not reacting, the Bible teaches to love one's enemy, and friends say that karma will catch up with them, so they shouldn't hold a grudge. Despite this advice, the speaker admits they still want to hold a grudge and seek revenge.
Verse 3:
"My list of names, ugh
Rolling off the page
Yeah, I don't know why you
Even wanna play these games"
Meaning: The speaker talks about keeping a list of names, possibly referring to people they want to retaliate against. They express confusion about why others want to engage in games or conflicts with them.
Verse 4:
"Pay me compliments, ahhh
Keep on grumbling, uh uh
'Cause I don't believe
A word you say, so suck my dick"
Meaning: The speaker mentions receiving compliments but dismisses them. They suggest that they don't believe anything the person says, and they respond with hostility, telling the person to suck their private parts.
Bridge:
"I know that it isn't fun
Been looking for a reason why
And deep down I wish I could just stop
But I wanna
I really, really wanna
Hmmmm, yeah, I'm gonna
Haha, yeah, I'm gonna, bitch
'Cause I really, really wanna
Don't fuck with me, bitch"
Meaning: In the bridge, the speaker acknowledges that their behavior is not enjoyable and that they wish they could stop, but they can't resist the desire for revenge and retaliation. They are adamant about wanting to continue with their vengeful actions and warn others not to mess with them.
If Found Any Mistake in above lyrics?, Let us know using contact form with correct lyrics!
Grudge Song Info:
| | |
| --- | --- |
| Song: | Grudge |
| Album: | Unhealthy |
| Singer(s): | Anne-Marie |
| Musician(s): | Evan Blair |
| Lyricist(s): | Anne-Marie, Evan Blair |
| Label(©): | Anne-Marie |