Loca Lyrics – Yo Yo Honey Singh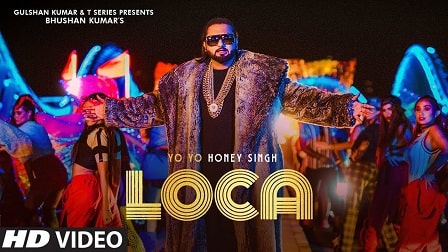 Loca Lyrics
Main Hoon Peeta
Sun Lo Senorita
Apni Marzi Se
Zindagi Jeeta
Main Hoon Peeta
Sun Lo Senorita
Apni Marzi Se
Zindagi Jeeta
Step 1, Apna Peg Banao
Step 2, Soda Coke Milao
Step 3, Yo Yo! Ka Music Bajao
Mujhe Koi Mera Ilaaj Batao
Kisi Ne Na Roka Kisi Ne Na Toka
Baby Mai Hu Aankhon Ka Dhoka
Main Hu Pura Crazy In Angrezi
Hila dunga Duniya Je Hogaya okha
I'm Going Loca Loca Loca Loca Loca
I'm Going Loca Loca Loca Loca Loca
Naa Kari Mainu okha
Pilade Coka Coka Coka Coka Coka
Pilade Coka Coka Coka Coka Coka
Naa Kari Mainu okha
Coka Loca Loca Loca
Naa Kari Mainu okha
Coka Loca Loca Loca
Naa Kari Mainu okha
Raat Ho Gai Hai Saare MadiraPaan Karo
Khatam Hone Na Paaye Do Do Jaam Bharo
Mere Naam Karo Mere Naam Karo
Jo Bhi Kaam Karo Sare Aam Karo
Mere Naam Karo Mere Naam Karo
Jo Bhi Kaam Karo Sare Aam Karo
O O Ohh Mujhe Milane Do
Peeni Hai Pilane Do
O O Ohh Woofer Bajane Do
Dharti Ko Hilane Do
Kisi Ne Na Roka Kisi Ne Na Toka
Baby Main Hu Aankhon Ka Dhoka
Main Hu Poora Crazy In Angrezi
Hiladunga Duniya Je Hogaya okha
I'm Going Loca Loca Loca Loca Loca
I'm Going Loca Loca Loca Loca Loca
Naa Kari Mainu okha
Pilade Coka Coka Coka Coka
Pilade Coka Coka Coka Coka
Kya Sochna Hai Logo Ka
Daaru Peeley Ho ja Loca
Sangeet Bajta Yo Yo Ka
To Hilti Hai Puri Nauka
Dharti Pe Party Toh Dharti Hil Jayegi
Paani Pe Party To Lehrein Bhi Ayengi
Jo Main Ye Naiya Na Paar Lagau Toh
Kudiyan Ghar Kaise Jayengi
Raat Se Ho Gaya Din
Peeke Vodka Cola Gin
Baby Body Ko Kar le Spin
Jaise Machhli Tadpe Paani Bin
Tinak Tinak Dhin
Tinak Tinak Dhin
Machhli Tadpe Paani Bin
Tinak Tinak Dhin
Kisi Ne Na Roka Kisi Ne Na Toka
Baby Mai Hu Aankhon Ka Dhoka
Main Hu Poora Crazy In Angrezi
Hila Dunga Duniya Je Ho Gaya okha
I'm Going Loca Loca Loca Loca Loca
I'm Going Loca Loca Loca Loca Loca
Naa Kari Mainu okha
Pilade Coka Coka Coka Coka
Pilade Coka Coka Coka Coka
Yo Yo Honey Singh!
Naa Kari Mainu o kha
Moody Aan Haye Main Thoda Moody Aan
Yatch Te Chad Ke Jatt adaunda Goodiyan
Naa Kari Mainu okha
Moody Aan Haye Main Thoda Moody Aan
Yatch Te Chad Ke Jatt adaunda Goodiyan
Yo Yo Honey Singh!
Naa Kari Mainu okha
Loca!
Written by: Yo Yo Honey Singh,Lil Golu
If Found Any Mistake in above lyrics?, Please let us know using contact form with correct lyrics!
Liked It, Share It with Your Loved Ones!