Main Nahi Toh Kaun Lyrics – Srushti Tawade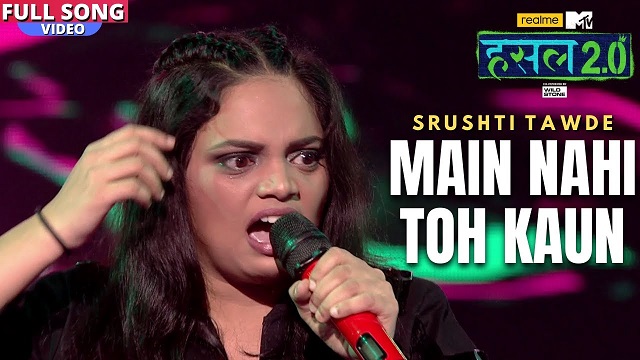 Main Nahi Toh Kaun Lyrics
Aye Ye Wahi Hai Na?
Hustle Wali Srushti?
Bhai Rapper Ban Gayi Raaton Raat
Writer Hai Bhai
Rapper Aise Hi Nahi Bante
Sune Nahi Kya Uske Gaane
Rapper Wali Vibe Hi Nahi Hai
Huh Baki Sab Ko Dekh Aur Usko Dekh
Ek Diss Karwa Diya Na Career Khatam
Uske Bas Ki Nahi Hai Be Ye Sab
Ae Ae Ae Main Nahi Toh Kaun Bey?
Haan? Haan?
Main Nahi Toh Kaun Be?
Bol Bol Bol
Main Nahi Toh Kaun Bey?
Hai Kaun Idhar?
Main Nahi Toh Kaun?
Mana Rapper Wali Vibe Nahi Hai Okay
Par Aisa Nahi Ki Versatile Nahi Hai
Theek Hai? Ruko Zara Sabar Karo
Kaun Bola Diss Mera Style Nahi Hai?
Ab Lo
Today I'm Thinking Imma
Open The Confession Box
And Let Me Start With The
Little One, The Paradox
Aadey Paate Sabki Chhora Se
Siyana Itna Thar Wich Maarda Ae
Docs Pe Docs Pe Docs
Agla Kaun? Agla Kaun Aana Chaahega?
Sunny Aaja! Baki Koi Nahi Aayega
Dubai Ka Sheikh Kaafi Flexy Lag Raha Tha
Diss Karna Nahi Tha Kar Diya Kyun Ki
Sexy Lag Raha Tha
Kyun Ki Se Yaad Aaya
Qk Bhi Hai Line Mein
Marathi Potti Paha
Kashi Karayli Enlightenment
Koi Hai Jo Baitha Udne Ko Taiyaar
Aur Wo Ek Taang Rakhe Khidki Te Bahar
Halke Mein Liyo Body Dekh Chhora Lambardaar
Saare Dekhe Ghoor Ab Million Te Number Paar
Ek Minute Hit Kiya Hi Nahi
Maine Shoutout Diya, Diss Kiya Hee Nahi
Uh-Huh-Huh Ek Aur Chance
Aur Is Baar To Na Level Advance
Dekho Ye Jo Chaar Hai Na
Humare Squad Bosses
Un Mein Baithi Akeli Hai
Goddess Of The Goddesses
King Size Show Mein Baitha
King Size King Hai Beta
Oops! Ek Aur Hit Hit Machine Hai
EPR Da Kauke Chhere Debe Na
Hok Onnay Ottachaar Kinba Jhaamela
Par Mere Wale Squad Boss Alag Hai
Sabhi Se Kabhi Sun-Na Gaana
Hancock Alag Hai Sabhi Se
Yaar Maine Socha Tha Ki Beef Hi Karungi
Mujhe Laga Bhi Nahi Tha Ki Taareef Hi Karungi
Isse Pehle Ki Beijjatti Extreme Ho Jaye
Bolo Kise Karoon Diss Ke Redeem Ho Jaye
I'm Kinda, I'm Kinda Getting A Vibe
That Everybody Wanna Hear About Badshah Bhai
But Badshah Ko Kabhi Koi Diss Nahi Karta
To Mere Paas Abhi Koi Raasta Nahi
Inhi Ke Gaano Pe Zamana Chala Do
Saturday-Saturday Rozana Chala Do
Unhe Bhi Maza Aata Mere Wale Gaano Mein To
Dj Wale Babu Mera Gaana Chala Do
Dekha? Kisi Ko Diss Nahi Kiya
Haan, Abhi Maine Waisa Wala
Stress Nahi Liya Hai Na
To Kya Main Rapper Nahi Hoon?
Aur Diss Wale Rapperon Se Better Nahi Hoon?
Khud Ki Aankhon Mein
Ooncha Dikhna Nahi Aata
Kabhi-Kabhi Lagta Hai
Mujhe Likhna Nahi Aata
Hold On, Bey
Maine Chill Kinda Guy
Maine Likha Chhota Don Bey
Abey Main Nahi Toh Main Nahi Toh Kaun Be?
Haan-Haan Main Nahi To Kaun Be
Bol Bol Bol
Main Nahi To Kaun Be?
Hai Kaun Idhar?
Srushti Nahi To Kaun? Huh!
Nahi Kar Payi Na Diss? Bola Na Main
Wack Rapper Hai, Wack Rapper
Written by: Srushti Tawade
If Found Any Mistake in above lyrics?, Please let us know using contact form with correct lyrics!
Main Nahi Toh Kaun Music Video
Main Nahi Toh Kaun Song Info:
| | |
| --- | --- |
| Song: | Main Nahi Toh Kaun |
| Album: | Hustle 2.0 |
| Singer(s): | Srushti Tawade |
| Musician(s): | Srushti Tawade |
| Lyricist(s): | Srushti Tawade |
| Cast: | Srushti Tawade |
More songs from "Hustle 2.0" Album
Liked It, Share It with Your Loved Ones!