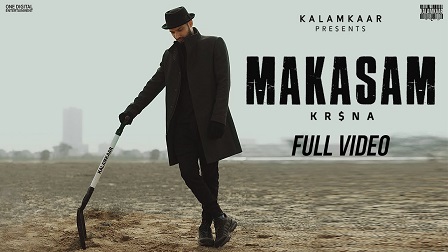 Makasam Lyrics
Yeah, Tune Line Cross Kari
Toh Mai Ek Aur Baar Line Cross Karunga
Aakhiri Baar!
Kabhi Kabhi Chup Rehna Hi Behtar Hain
Kr$Na Ab Le Raha Teri Keh Kar Hain
Kakarot Mein, Is Game Mein, Banda Hi Nahin
Meri Ghalti Kari Naam Ko Lekar Hain
Faker Hain Marega To Karega Na Miss Koi
Rap Ki Lugayi Lagta Hain Tu Miss Koi
Jab Tak Tera Fayada Tha Tu Bhi Kar Raha Tha
Ra Ra Jaise Mutton Wali Dish Koi
Jhatka Laga Tha Tujhe Maharani Ke Baad
Bol Beti Such Hain Tu Sahi Hain Na
Ceat Tyre Mai Nahin Baat Karra Pahiye Ka
Par Tere Papa Ko Rubber Lagana Chahiye Tha
Ro Le Tujhmein Dum Hain Na To
Paar Kare Yamuna Ko
Diss Karun Tujhe To Bolega Jaake Mama Ko
Unko To Mai Humesha Karta Respect
Unki Kya Galti Beta Nikla Nikamma Jo
Ba Ba Ba Ba Ba Ba Ba Black Sheep
Har Track Pe Mai Lagta Hu Athlete
Fact Chahiye To Fact Yehi Hain
Ke Tere Gaano Mein
Mere Baare Mein Koi Fact Nahin
Clear Karun To Kalamkaar Mein Hu Partner
Iska Matlab Chhote Mai Kise Ke Bhi Neeche Nahin
Neeche To Tu Anshul Aur Tony Ke
Missionary Shayad Teri Lete Khade Hoke
Tere Peechhe Bhi
Kitne Me Bikega Tu Daam De
Bl*W Job Wala Lagta Tu Naam Se
Bunty Ko Jaake Ab Ga**D De
Teri Jali Booty Beta Yeh Na Koi Ramdev
Ab Gauri Hi Chinal Bas Jaaye Jahan Hain Fayada
Iss Baar Bhi Tera Nasha Ruk Nahin Payega
Banaya Maine Jaake Ravan Ko Ramayana
Teri Paheli Ka Anjaam Maar Khayega
Back Stabber Tu Hain Beti Kahan Hain Tera Aaina
Lagta Tu Pusy Jo Ki Bin Wajah Aaina
Gaana Tha Bekaar To Bole Tha Mai Bimaar
Jaise Nehwal Maine Aise Bahane Hain Sahe Na
Agli Baar Dikhi To Tere Liye Ghusand Hain
Tujhe Laga Tu Jeeta Tujh Mein Ghamand Hain
Gaano Mere Kare Tu Mere La*D Ka Zikar
Miss Spicejet Se Zaada Lagta Tujhe Pasand Hain
Ise Naapne Ja Shauk Hain
Ise Naapne Ja Shauk Hain
Ise Naapne Ja Shauk Hain
Ise Naapne Ja Shauk Hain
Ise Naapne Ja Shauk
Ab Ye Kaanpega Khauf Se
Hashtag Fixed Match Fixed Match
Sanjeev Chawla Nahin Beta Tera Shit Whack
Shakal Se Tu Lagta Hain Panzy
Scandal Mein Hansie Career Dooba Hua Big Crash
Bole Aake Kalamkaar Se 5 Log Ne Diss Kiya
5 Log Kidhar Shayad Maine Kuchh Miss Kiya
Diss Kiya 2 Ne Rang Tere Hain Dogle
Tune Bunty Ke Fan Ko Praja Bol Ke Enlist Kiya
Teen Din Lapata Maine Kara Case Close
Raga Se Bhi Pade Tujhe Chutad Pe Chaped Do
Ab Pauri Pal Ke Gaal Ga*Nd Ke Laal
Bilkul Jaise Toone Bola Is The Color Of My Face Bro
High-Five Jalpari Doobi Yaane Lagi High Tide
Yeh Hype Ki Hain Bhookhi De Do Thodi Limelight
Yeh Hain Fight Night To Mai Lagun Mike Tys'
Tu Sick Like Twice I Rolled The Dice Right
Studio Ki Baat Tujhe Yaad Hogi
Teri Awaaz Sune Bina Sabki Saans Udi
Poori Apni Janta Bhaag Uthi
Jab Tune Joote Khole Aur Gandi Baas Uthi
Mr.Smelly Foot Haan
Got Killed By Mr Tooth Haan
Ansul Ke Aage Zyada Na Jhukna
Kahin Zyada Ghiss Na Jaaye Tera Ghutna
Naya Hain Sawera Dil Tera Keh Ra
Aayi Janmashtami Khatam Hua Dussehra
Lugayi Wala Chehra Blouse Jaake Pehan Aa
Naach Mere Aage Tab Phenkunga Paisa
Naya Hain Sawera Dil Tera Keh Ra
Aayi Janmashtami Khatam Hua Dussehra
Lugayi Wala Chehra Blouse Jaake Pehan Aa
Naach Mere Aage Tab Phenkunga Paisa
Role Ancient Mujse Bura Lagta Hain
Tu Still Ziki Meida Ka Kuda Lagta Hain
Tu Soft Jaise Silk Route Ke Ganga Mein Kood
Bhagirath Mein Dooba Dooba Lagta Hain Tu
Wo Voice Note Diss Game Se Purana
Bhadkaane Ka Tareeka Bhi Lame Hain Tumhara
Afsos Gaurav Ko Mai Paal Nahin Paa Raha
Kyuki Paale Maine Kutte Par Saanp Nahin Pala
Aur Harjas Chupa Rustam Ke Time Pe
Humne Use Bola Bro Mat Kar Diss Tu
Par Usne Bola BHain Mujhe Karna Hain
Wo Hain Uski Marzi And We Don't Have An Issue
Baat Karun Sirf Apne Liye
Aur Mujhe Maharani Se Nafrat Hain
Taan Ke Ghumun Mai Seena Jaise Shatrughan
Kitno Ko Diya Janam Lagta Kr$Na Hi Dashrath Hain
Natkhat Hain Gopala Teri Haandi Na Tod De
Phir Safed Makhan Milega Tere Honth Pe
Track Pe To Yahan Saare Bante Hainn Hard
Par Milke Dar Se Ho Jaate Ye Totle
Kar Meri Baat Mai To Karta Hoon Drugs Nahin
Maal Nahin Phoonkta Aur Deta Mai Fu*Ks Nahin
Tujhe Lagi Badi Chull Sach Ki
Tu Karta Hain Dono Ab Bol Yeh Sach Nahin
Sach Yahi Tu Chahta Hain Hype
Tu Chahta Hain Raftaar Kare Tujhe Reply
Toone Kara Diss Jisne Maana Tujhe BHain
Taaki Tu Ban Jaaye Ek Aur Bantai
Diss Kyun Kare Use Jis-Se Li Udhari Toone
Sadma Laga Aakhirkaar Kaate Baal Phir
Jaake Kaali Kari Sunehre Wali Ye Daadhi Toone
Jalpari Mar Padi Phir Se Mara Li Tune
You Ain't Beethoven But I'm Menad To Bach
You're Elementary, I'm Dropping Penitentiary Bars
Leave'em Potentially Scarred
They Pretend To Be Hard Until I'm Waving The Stick
Making The Symphony Start
Views Kam Aaye To Lagaye Tone Ad, That's Fact
Comment Daale Fake Wale Whack, That's Fact
Daale Pre Written Wale Rap, That's Fact
Deadline Mein Hi Hua Tera Wrap, That's Fact
Pehle Diss Phir Bole No Hate
Chhotu Tu Kehna Kya Chahata Hain
Above The Belt Ki Baat Kare
Par Maza To Tujhe Below The Belt Rehne Mein Aata Hain
Mujhe Jod Mat Kisi Aur Ke Usool Se
Do Baar Liya L Jaise Toone Cool J
Mere Balls Kyun Paas Tere Munh Ke
Jaise Lete Shot Jab Leit Ke Tum Pool Mein
Aaj Awam Khush Teri Praja Gaad Ke
Ab Miloonga Tujhe Mai Tere Ghar Ke Paas Mein
Tu Bana Raha Diss Aur Mai Bana Raha Hit
Dekh Lenge Kaun Kya Karta Hain Iss Saal Mein
3 Gaane Baad Bhi Mujhe Ye Daad Dere
Teri Khushiyan Khatam Kari Raat Leke
Ab Life Apni Kar Mujhe Dedicate
Kar Thoda Meditate
Poori Zindgi Mujhe Jawab Dete
Karu Jo Bhi Bolun And I Don't Talk Shit Boy
Agli Bara Jawab Mera Hoga Nahin Diss Boy
Tujhe Lage 3 Gaane Karne Reply
Mera Ek Gaana Kare 3 Ko Destroy
Wo Bhi Voice Note Ke Bina
F*Ckin' Snitch!
Oh Aur Promotion Ke Liye Dhanywad
Album Dropping This Summer
Rest In Peace
Maa Kasam Hard Nahin Chhote
Tu To Shuru Se Hi Lagta Hain Naram
Makasam Palan Tode Kese Beta
Tera Kaafi Halka Hain Wajan
Maa Kasam Paanch Ki Baat Kare
Par Akela Maine Kiya Tujhe Khatam
Makasam Tere Munh Se
Bhaichare Wali Baatein Hoti Nahin Hazam
Written by: Kr$Na
If Found Any Mistake in above lyrics?, Please let us know using contact form with correct lyrics!