P.O.V (Point Of View) Lyrics – Karan Aujla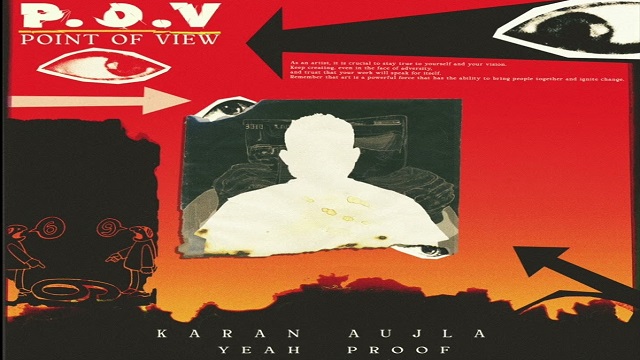 P.O.V (Point Of View) Lyrics
Chajj Naal Sochdi Ni Judge Kardi
Duniya Taan Rab Nu Vi Judge Kardi
Bhukhi Badnam Rajh Rajh Kardi
Veere Duniya Taan Rab Nu Vi Judge Kardi
Yeah Proof!
Kise Kol Jawab Ni Har Ek Kol Sawal Aa
Duniya Kamal Aa Kamal Aa Kamal Aa
Jehdeya De Karke Ni Sadda Eh Haal Aa
Oh Halle Tak Aankhi Jande Appa Tere Naal Aa
Duniya De Chubhda Rakane Deewa Jagda
Ikko Mere Dil Ch Rawa Hi Ni Sakda
Kitta Gall Manni Ajj Kal Lok Tej Ne
Ni Enne Vi Ni Bhole Sanu Pata Hi Nai Lagda
Dimag Nu Laga Leyo Dimag Ghatt Lad-Da
Pata Hunde Hoye Dasso Teer Kehda Fad-Da
Kitte Jaiye Margye Na Jaiye Taa Vi Na Mareya
Hunn Dasson Marne Nu Kihda Dil Karda
Piche Too Aa Khoo Da Te Muhre Too Aa Agg Da
Oh Ni Koi Dekhda Ankhan Cho Pani Wagda
Jinna De Kasoor Ne Haye Oh Taan Badi Door Ne
Te Naam Pichon Tere Mere Warge Da Lagda
Kise Baare Bolna Ae Gallan Nahio Changiyan
Safaiyan Tahion Dittiyan Safaiyan Tussi Mangiyan
Dasson Fer Sanu Kehda Puchne Nu Aa Gaya
Oh Panj Vaari Sadde Vi Ghara De Wicho Langiyan
Bachke Ni Bachke Haye Aggo Kuhni Mod Ae
Media Te Sadh Ke Story Dinde Jod Ae
Kihnu Jaake Dassa Assi Kithon Kithon Lange Aa
Ni Kehni Gall Hor Ae Te Ban Jani Hor Ae
Soch Sali Dhageya To Jyada Hi Bareek Ae
Meri Vi Taan Ghare Pariwar Nu Udeek Ae
Behan Rehndi Puchdi Ki Veereya Ki Ho Gaya
Oye Aahi Raaha Aankhda Ki Sara Kujh Thik Ae
Chajj Naal Sochdi Ni Judge Kardi
Duniya Taan Rab Nu Vi Judge Kardi
Bhukhi Badnam Rajh Rajh Kardi
Veere Duniya Taan Rab Nu Vi Judge Kardi
Eddan Kithe Lukkan Chalakiyan Lukaiyan
Kole Temporary Hide Kardiyan Daaiyan
Khabran Te Chapde Na Tolde Na Napde
Ni Dass Fer Aithe Kehda Muk Gaiyan Ne Seyahiyan
Assi Aa Khalote Jaan Wale Sare Lang Gaye
Mauke Di Aa Gall Mauka Mile Aa Te Bhand Gaye
Fikar Na Kar Biba Unglan Te Yaad Ni
Jehde Sadde Maade Time Wich Mitha Bhand Gaye
Kitte Din Chadh Da Te Kithe Hundi Sham Ae
Jubaan Utte Maan Ae Ni Ohnu Hi Salam Ae
Gareeb Kol Paise Di Te Sache Kol Saboot Di
Ghaat Aithe Mudd Ton Hi Hundi Gall Aam Ae
Mel Da Ki Khand De Sahare Aa Ugli
Hasmukh Bande Aa Subah Sadda Shugli
Gall Baat Rab De Je Reh Gayi Ae Suna
Shera Mitraan De Kol Khadke Na Kari Chugli
Gaane Chote Lagde Likhan Lagga Duniya
Musibatan Taan Baniya Musibatan Ni Chuniya
Umar Je Hogi Fer Poteya Nu Dasseyo Ke
Kotiyan Ni Aundiyan Schem'an Bass Buniya
Nasha Thodde Andar Koi Load Hai Ni Peen Di
Peeth Kade Lagdi Ni Naam De Shaukeen Di
Ohnu Thodde Andron Awaaj Sayad Aa Jawe
Haye Kalle Behke Suno Katha Sant Maskeen Di
Written by: Karan Aujla
If Found Any Mistake in above lyrics?, Please let us know using contact form with correct lyrics!
P.O.V (Point Of View) Music Video
P.O.V (Point Of View) Song Info:
| | |
| --- | --- |
| Song: | P.O.V (Point Of View) |
| Singer(s): | Karan Aujla |
| Musician(s): | Yeah Proof |
| Lyricist(s): | Karan Aujla |
| Label(©): | Karan Aujla |
Liked It, Share It with Your Loved Ones!