Pagg Lyrics – Amrinder Gill | NseeB | Judaa 3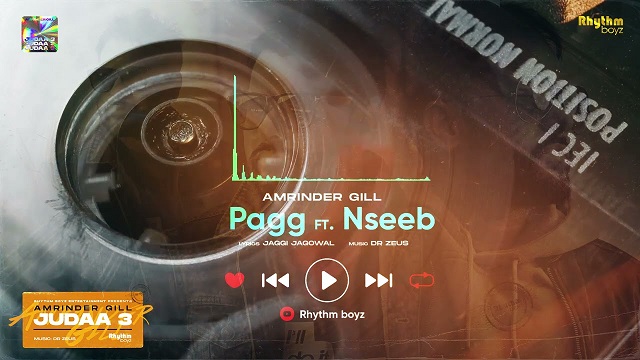 Pagg Lyrics
Ho Sir To Laggi Pagg
Ho Pakki Fasal Fook Je Agg
Ho Munda Nashe Te Jaave Lag
Oh Loko Dukh Bade Hi Wadde
Dauda La La Pair Ghasa Laye
Andar Khate Hon Kutale
Bharti Ho Agye Paise Wale
Oh Gal Dil Te Sidhi Wajje
Maape Wirdh Aashram Chadd Gaya
Piche Gharwali De Lag Gaya
Ajj Tu Maa Baap To Bhajj Gaya
Bandeya Ki Teri Sardari
Paina Jo Beeja So Katna
Umara Wala Fal Jad Pakna
Pichle Karma Wal Payu Takna
Oh Jad Aayu Apni Vaari
Oh Nangi Akh Naal Na Dikhda
Firda Umar Bande Di Likhda
Bhyi Ik Virus Nahio Tikda
Eh Ne Rang Osde Sabbe
Ho Sir To Laggi Pagg
Ho Pakki Fasal Fook Je Agg
Ho Munda Nashe Te Jaave Lag
Oh Loko Dukh Bade Hi Wadde
Dauda La La Pair Ghasa Laye
Andar Khate Hon Kutale
Bharti Ho Agye Paise Wale
Oh Gal Dil Te Sidhi Wajje
Nseeb!
Gijj Gayi Chaad Te Maadi Zubaan
Lahe Na Chadeya Teer Kaman
Bind Na Laundi Khesar Paan
Gallan Jo Kajdi Dhee Jawan
Duniyadari Badi Balwan
Doctora Sasti Smjhi Jaan
Maut Vi Vikdi Gul Samshan
Paise Gin Ke Lambu Laun
Veera Baghi Mera Dharne Te Gaya Si
Hukumata Saheed Karta
Haadi Vele Limita To Ankh
Bapu Sanha Nu Akhir Kar Gaya
Bebe Uthi Ni Main Jadon Us Din Di
Adhar Te Dawai Fadh Leya
Behan Rondi Rondi Maa Kol Puchdi
Ke Maa Eh Rabb Theek Kar Reha
Dasso!
Na Dakhan Te Parchavein Lukk Je
Virsa Kitte Puraana
NaseeB Seyan Putt Maa Boli Da
Hona Kado Seyana
Chahida Chahida Bacheya Wich Mapeya Nu
Mood Ithiaas Sikhana
Ni Bhagat Sarabe Udham Singh Da
Gaya Gawara Jana
Cycle To Ban Gayi Gaddi Te
Kulli To Kothi Waddi
Hundi Dharam De Naam Te Thugi
Jaggi Jagowal Ae Kehnda
Bhyi Loko Shaurat Milje Sasti
Taahi Karde Aish Parasti
Bande Di Dekho Hasti Bhyi
Chora De Pairi Painda
Ho Ethe Raje Da Putt Raja
Lara Nikale Har Ik Vaada
Baki Hor Ki Bola Jyada
Looti Jaan Gharane Wadde
Ho Sir To Laggi Pagg
Ho Pakki Fasal Fook Je Agg
Ho Munda Nashe Te Jaave Lag
Oh Loko Dukh Bade Hi Wadde
Dauda La La Pair Ghasa Laye
Andar Khate Hon Kutale
Bharti Ho Agye Paise Wale
Oh Gal Dil Te Sidhi Wajje
Written by: Jaggi Jagowal
If Found Any Mistake in above lyrics?, Please let us know using contact form with correct lyrics!
Pagg Music Video
Pagg Song Info:
| | |
| --- | --- |
| Song: | Pagg |
| Album: | Judaa 3 |
| Singer(s): | Amrinder Gill, NseeB |
| Musician(s): | Dr Zeus |
| Lyricist(s): | Jaggi Jagowal |
| Label(©): | Rhythm Boyz |
More songs from "Judaa 3" Album