Alag Aasmaan Lyrics – Anuv Jain | Ukulele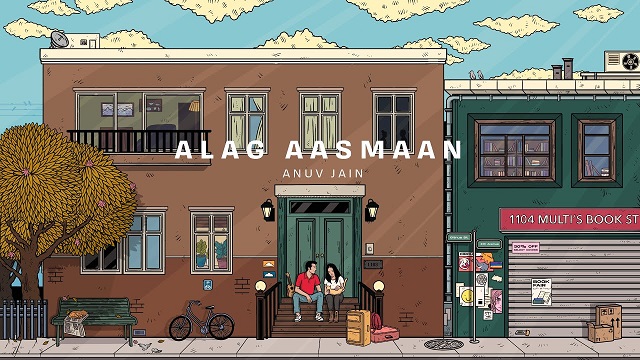 Alag Aasmaan Lyrics
Nayi Nahi Hai Ye Baatein Wahi
Fir Iss Mod Par Hum Mile Hain
Na Jaane Ab Milenge Hum Kabhi
To Ruk Jao Ek Pal Yaha Pe
Yeh Naram Chadaron Ki Silvatein
Tujhe Abhi Bula Rahi Hai
Na Jaao Door Inse Kahein Ye Sukoon
Kahan Pe Hai Hasil Dil Ko Mere
Yeh Hai Pata Ki
Milon Ka Ye Faasla Hai
Alag Aasmaan Bhi Hai
Toh Kya Yeh Dil Na Maane
Ye Gaadiyon Ki Aisi Daudh Sa
Tera Bhi Dil Daudhta Hai
Ha Jaa Rahe Ho Door Tum Toh Kya
Main Hi Toh Dil Ka Musafir
Toh Ek Baar Fir Tu Hanske Zara
Dekh Le Meri Inn Aankhon Mein
Main Kaid Kar Lu Har Woh Pal
Tera Teri Yeh Baatein Jo Hain!
Toh Aur Kya Hai Yeh Baatein Bata
Kyu Ab Din Bhi Dhalta Nahi
Ye Na Ho To Hu-U-U-U
Tum Udde Ja Rahe Ye Aasmaan Mein
Khidkiyon Se Dekh Tu Pahadon Ko
Yoon Chotey Se Lage
Hai Kitne Bade Jo Ho Samne He-E-E
Door Jo Hai Khade
Unhe Bhi Ye Humari Zindagi Yu
Titliyon Si Choti Choti Si Lage
Hai Kitni Badi Nahi Jante Ayy
Khali Ghar Tera
Yeh Chabiyon Ki Gunj Aise
Tujhe Dara Rahi
Tu Darna Nahi Main Hu Yahi Par
Ab Alag Aasmaan Hai
Aur Hai Zameen Bhi
Kuch Alag Si
Par Miloge Jab Kabhi
Toh Dekhna Tabhi
Main Kuch Alag Nahi
Written by: Anuv Jain
If Found Any Mistake in above lyrics?, Please let us know using contact form with correct lyrics!
Alag Aasmaan Music Video
Alag Aasmaan Song Info:
| | |
| --- | --- |
| Song: | Alag Aasmaan |
| Singer(s): | Anuv Jain |
| Musician(s): | Angad Singh Bahra |
| Lyricist(s): | Anuv Jain |
| Label(©): | Anuv Jain |
Liked It, Share It with Your Loved Ones!