College Life Lyrics – Khasa Aala Chahar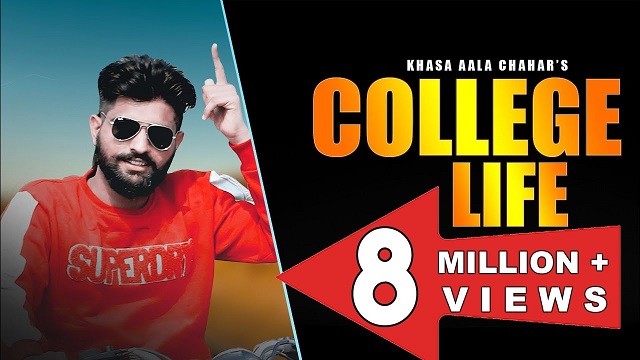 College Life - Khasa Aala Chahar
Bamboo Beat!
Us College Aali Life Ke
Din Katt Rahe The Mauja Me
Mood Ke Ve Din Aave Na
Jo Reh Gaye Khayala Se Fauja Me
Sehar Gawah Hisar Bana
Yaara Ka Sansaar Bana
Baaje Naam Fankara Mein
Vo Khasa Aala Chahar Sunya
Dil Ke Yaar Sab Raaje The
Dil Mein Na Darwaje The
Beej Koye Na Akkal Ka
Par Yaari Ke Andaje The
Sab Zaat Ke Yaar The Yaari Mein
Khauf Thana Parbhari Mein
Ghar Jaake Maada Jhakya Na
Sab Rhende Zimmewari Me
Hooka Fit Tha Gaadi Me
Zor Tha Thaddi Body Me
Panchtatav Ka Villan Woh
Jannu Dhuma Uthe Samadhi Mein
Saahpur Aale Hotel Pe
Digdi Neet Ude Bottle Pe
Khula Khata Yaara Ka
Na Rukdi Kalam Kade Total Pe
Khaas Group Ke Bande The
Education Mein Mande The
Bag Gale Mein Tangya Naa
Lagge Faansi Aale Fande The
Railiyan Bihtar Shor Tha
Baajuan Bihtar Zor Tha
Saluting Mere Yaar Ne
Pardhani Me Koyi Aur Tha
Moocha Ke Sada Maroda Tha
Na Honsla Bihtar Thoda Tha
Fauji Aale Role Ke Main
Aata Ke Main Ghoda Tha
Ek Mildi Cute Smile Thi
Leri Keypad Mobile Thi
Ib Following Meri Lakhan Mein
Kade Sunni Ya Profile Thi
Zindagi Saali Haseen Thi
Bin Ranga Ke Rangeen Thi
Fikar Na Faaka Mind Mein
Kari Waardat Sangeen Thi
Kayi Rhende Girlfriend'a Mein
Jo Sher Re Saale Bill Ke The
Ude Katha Hooka Baaje Tha
Jitt Yaar Re Saare Dil Ke The
Khasa Gaam Te Uthe Call
Aur Ja Pahuche Mla Tahi
Hooter Ki Juu Shor Yaara Ka
Gunj Sune PLA Tahi
Reh Gaye Jade Frame'aa Mein
Ve Langote Aale Yaara Mere
Ib Hoge Set Sab Life Mein
Ve Pakke Re Dildaar Mere
Neeli Chatri Aale Tu
Dhayan Raakhiye Yaaran Ka
Sab Khusde Vasde Rehve Ve
Naa Motta Business Yaara Ka
Oye Hoye Oye Hoye Oye Hoye Oye
Oye Hoye Oye Hoye Oye Hoye Oye..
Written by: Khasa Aala Chahar
If Found Any Mistake in above lyrics?, Please let us know using contact form with correct lyrics!