Sweet Sounds Of Heaven Lyrics – The Rolling Stones | Lady Gaga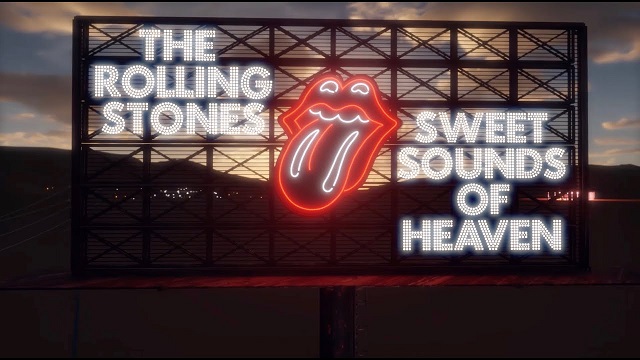 Sweet Sounds Of Heaven Lyrics
I Hear The Sweet Sweet Sounds Of Heaven
Falling Down Falling Down To This Earth
I Hear The Sweet Sweetest Sounds Of Heaven
Drifting Down Drifting Down To This Earth
Bless The Father Bless The Son
Hear The Sound Of The Drums
As It Echoes Through The Valley And It Bursts Yeah
Let No Woman Or Child Go Hungry Tonight
Please Protect Us From The Pain And The Hurt Yeah
I Smell The Sweet Scents Sweet
Sweet Scents Of Heaven Heaven
Coming Down Coming Down
Coming Down To The Earth Oh
I Hear The Sweet Sounds Sweet Sounds
The Sweet Sounds Ooh
The Sweet Sounds Of Children
And They're Praising Praising
The Land Of Their Birth
No No I'm Not Not Going To Hell
In Some Dusty Motel
And I'm Not Not Going Down
In The Dirt Yes Yes Yes
I'm Gonna Laugh I'm Gonna Laugh
I'm Gonna Cry I'm Gonna Cry
Eat The Bread Drink The Wine
'Cause I'm Finally Finally Quenching My Thirst Yeah
You Can't Have A Light Without A Little Shadow Yeah
Always Need A Target For Your Bow And Arrow
I Want To Be Drenched In The Rain
Of Your Heavenly Love Oh Yeah Come on
Let The Music Let The Music
Play Loud Play Loud
Let It Burst Let It Burst
Through The Clouds Through The Clouds
And We All Feel The Heat
Of The Sun Yeah
Yeah Let Us Sing
Let Us Shout Let Us Shout
Let Us All Stand Up Proud
Let The Old Still Believe
That They're Young Yeah
Sweet Sweet Sound
Sounds So Sweet Oh So Sweet
Sounds So Sweet So Sweet
Heaven Heaven
Down Falling Down
Falling Down To This Earth
Sweet Sounds Of Heaven Music Video
Sweet Sounds Of Heaven Lyrics Meaning
Verse 1: The mention of "Heaven" and its sweet sounds falling to Earth symbolizes a connection between the divine and earthly existence. It may reflect a desire for a heavenly presence or guidance in our lives.
Verse 2: Bless The Father Bless The Son" implies seeking blessings and protection from a higher power. The imagery of drums echoing through the valley may signify a call to spirituality or a deeper sense of purpose.
Verse 3: The plea to ensure no one goes hungry and to protect from pain and hurt emphasizes compassion, kindness, and a wish for a better world where suffering is alleviated.
Verse 4: The sweet scents of heaven could symbolize the presence of grace or divine influence in our lives, bringing comfort and peace.
Verse 5: The sweet sounds of children praising the land of their birth might signify innocence, hope, and the importance of gratitude for life's blessings.
Verse 6: The rejection of negativity and a determination to find joy, nourishment, and fulfillment ("Eat the bread, drink the wine") reflects resilience and a positive outlook even in challenging times.
Verse 7: The juxtaposition of light and shadow suggests the balance between good and bad, or joy and sorrow. It may convey the idea that experiencing challenges allows us to appreciate the brighter moments in life.
Verse 8: The desire to be drenched in the rain of heavenly love symbolizes a thirst for divine affection and a longing for spiritual fulfillment.
Verse 9: Encouraging the celebration of music and expressing oneself implies finding joy and unity in communal experiences, like music, as a form of spiritual expression.
Verse 10: Acknowledging the heat of the sun and urging everyone to stand up proudly might signify embracing life's challenges and finding strength in unity and collective action.
Chorus: The repetition of "Sweet Sweet Sound" and "Heaven Heaven" emphasizes the longing for a beautiful and positive spiritual experience, echoing throughout existence, bringing hope and comfort. The idea of sounds falling to Earth could signify a desire for divine influence and guidance in our lives.
If Found Any Mistake in above lyrics?, Let us know using contact form with correct lyrics!
Sweet Sounds Of Heaven Song Info:
| | |
| --- | --- |
| Song: | Sweet Sounds Of Heaven |
| Album: | Hackney Diamonds |
| Singer(s): | The Rolling Stones, Lady Gaga, Stevie Wonder |
| Musician(s): | Andrew Watt |
| Lyricist(s): | Mick Jagger, Keith Richards |
| Label(©): | The Rolling Stones |