कर्पूरगौरं करुणावतारं Karpur Gauram Karunavtaaram Lyrics In Hindi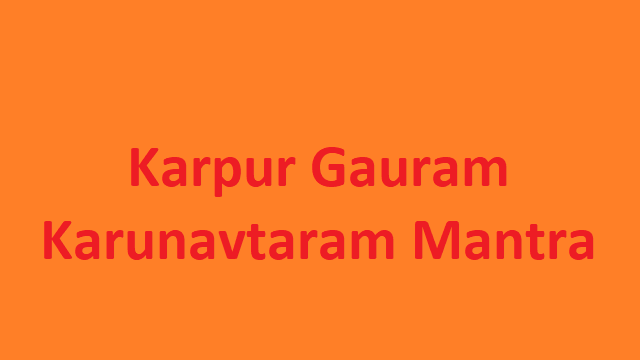 Karpur Gauram Karunavtaram Lyrics In Hindi with meaning
Karpurgauram Karunavataram Mantra In Sanskrit:
कर्पूरगौरं करुणावतारं संसारसारं भुजगेन्द्रहारम्‌।
सदावसन्तं हृदयारविन्दे भवं भवानीसहितं नमामि॥
Meaning Every Words of Karpur Gauram Karunavtaram (Shiv Mantra) In Hindi
इस श्लोक का हिंदी में अर्थ:
कर्पूर-गौरं: जो कर्पूर जैसे गोरे वस्त्र धारण करते हैं।
करुणावतारं: जो करुणा का अवतार हैं।
संसार-सारं: संसार के सार हैं।
भुजगेन्द्र-हारं: जिनके गले में भुजंगराज (सर्प) की माला है।
सदा-वसन्तं: जो सदा बसते हैं, जैसे वसंत ऋतु में सदा रहती है।
हृदय-अरविन्दे: जिनके हृदय कमल के समान हैं।
भवं: जो भव संसार के स्वामी हैं।
भवानी-सहितं: जो भवानी (पार्वती) सहित हैं।
नमामि: मैं उनको नमस्कार करता हूँ॥
Karpur Gauram Translation In Hindi
यह श्लोक प्रमुखत: भगवान शिव की महिमा को व्यक्त करता है और उनके ध्यान में मन को स्थिर करने के लिए उपयोगी होता है। भगवान शिव को ध्यान करने से मन की शांति, स्वयं को पावन करने की भावना और दया की भावना विकसित होती है।
Karpur Gauram Karunavtaaram Mantra Music Video
Karpur Gauram Karunavtaram Lyrics with meaning
Transliteration:
Karpūragauraṁ karuṇāvatāraṁ sansārasāraṁ bhujagendrahāram‌।
Sadāvasantaṁ hṛdayāravinde bhavaṁ bhavānīsahitaṁ namāmi॥
English Translation:
I bow to the pure white, compassionate form, the essence of existence, adorned with a garland of serpents,
Always dwelling in the lotus of the heart. I bow to Lord Shiva, along with Goddess Bhavani (Parvati).
English Meaning of Karpur Gauram Karunavtaram:
This shloka is often chanted as a prayer or in meditation to seek blessings and protection from Lord Shiva. It is also a part of the popular TV show "Devon Ke Dev… Mahadev," where it gained widespread recognition and popularity.
If Found Any Mistake in above lyrics?, Let us know using contact form with correct lyrics!
Karpur Gauram Karunavtaaram Mantra Song Info:
| | |
| --- | --- |
| Song: | Karpur Gauram Karunavtaaram Mantra |
| Album: | Hindu Prayers |
| Singer(s): | Amitabh Bachchan, Kailash Kher |
| Lyricist(s): | Traditional |