Legacy Lyrics – Amit Bhadana | Bintu Pabra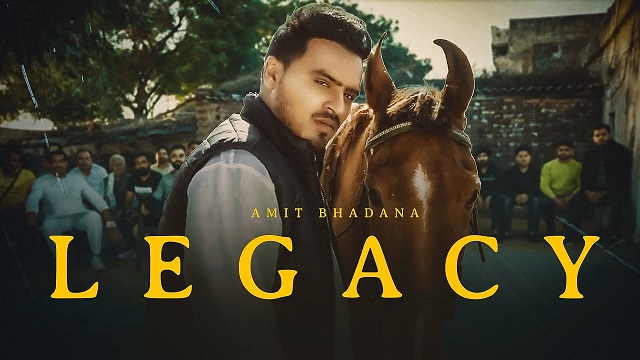 Legacy Lyrics
The Kidd!
Dekh Sarkari Re School Aali Vardi
Kade Tak Pauch Li Chadayi Poori Kardi
Dekh Comptetiora Ke Jaade Chad Re
Par Yaara Ne Ni Dekhi Kade Garmi Re Sardi
Yaara Uss Jagah Ye Belong Kare Se
Jadde Manas Na Mausam Badalte Rahve
Ek Shuru Te Hi Gelya Yaar Bhaiya Barge
Jo Se Sukh Aur Dukh Ke Maah Chalde Rahve
Husana Pe Mare Koni Nashe Patte Kare Koni
Ped Niche Ped Sun Honde Kade Hare Koni
Bande Koni Sikhe Re Jaleel Karne
Armaan Koni Sikhe Kheel Kheel Karne
Maada Tyme Bera Ni Re Ke Ke Karvade
Khud Judge Ne Bhi Pad Je Vakeel Karne
Oh Kitte Ke Ni Chode Ajj Tekk Gaye Wo Godde
Maade Tyme Kare Kode Re Farash Pe Manne
Kadwe Karele Jissa Nature Mera
Kade Kara Ni Yakeen Mithe Rass Pe Manne
Daily Kare Fun Kathe Yaar Baith Ke
Sansakr Koni Bhule Kade Bahar Baith Ke
Gali Deke Kade Na Trendinga Meh Aaye
Meri Video Ne Dekhe Parivaar Baith Ke
Badeya Ke Maah Waah Dekh Bacheya Mein Craze Dekh
Tere Yaar Ka Tu Ache Achya Mein Craze Dekh
Bhatke Re Manas Sikhaye Hai Manne
Pehla Mere Kaam Dekh Ferr Meri Age Dekh
Maano Ya Na Maano Samjhana Mera Kaam Hai Re
Arre Khud Roke Logga Ne Hasana Mere Kaam
Arre Kootiya Te Uth Ke Re Kothiya Mein Aaya
Nuye Banne Konya Mait Badhana Mera Naam
Shuru Te Ae Mere Aakrosh Gaat Mein
Dade Aale Khoon Se Cross Gaat Mein
Marke Ne Gore The Bhajaye Jisne
Sher Bhagat Singh Jissa Josh Gaat Mein
Loga Ne Re Rang Bar Bar Badle
Kade Bhi Na Bhaiya Aale Pyar Badle
Ginti Ke Ho Liye Se 12 Saal Re
Mera Number Bhi Wohe Naa Yaar Badle
Skill Lata Rahu Nayi Nayi Theme Mein
Gaam Te Hi Karya Karu Light Dim Mein
Fans Khade Aage Ree Deewar Ki Tarah
Jaise Rahul Dravid India Ki Team Mein
Dekh Dekh Vairiyan Ke Chad Gaya Bukhar
Chora Har Bar Cheej Jama Laave Aar Paar
Arre Kade Bhi Na Dusra Mein Akdho Galti
Arre Pehla Leyo Aap Aali Galti Sudhar Makha
Oh Ek Thali Mein Re Mahra Khana Baith Ke
Yaari Mein Na Kade Jaat Paat Hove Hai
Paise Vaise Kade Koni Dekhe Yaar Ne
Bass Dil Mile Ki Re Baat Hove Hai
Paise Vaise Kade Koni Dekhe Yaar Ne
Bass Dil Mile Ki Re Baat Hove Hai
Peetha Pe Jo Laage Isse Chure Milenge
Bach Ke Re Rahiye Log Bure Milenge
Mitha Bol Bol Ke Ne Fasange Tanne
Kale Bhitar Te Upar Te Bhure Milenge
Dharti Mein Teer Maar Nilega Jal
Kamyabi Bhi Milegi Tanne Aaj Na Taa Kal
Arre Milkha Te Daud Sikh Chanakya Te Budhi Rakh
Suchi Neet Bholenath Denge Pakka Fal
Bhot Log Kadhe Tere Naam Mein Kammi
Bhot Log Kadhe Tere Kam Mein Kammi
Logga Ki Na Suniye Tu Rahiye Chalda
Loga Ne Taa Kadhi Shri Ram Mein Kammi
Kabhi Kabhi Anakho Se Dekha Hua Bhi
Sataya Nahi Hota
Daily Teen Tyme Ka Niwala Mil Ja
Pujan Ne Ghar Devi Aaal Mil Ja
Kp Bintu Ki Bass Eke Hai Khwaish
Har Janam Mein Pabra Kinala Mil Ja
Oh Sidhe Sadhe Rahe Kade Ruke Maare Na
Laye Se Nishane Kade Tukke Maare Na
Written by: KP Kundu,Bintu Pabra,Amit Bhadana
If Found Any Mistake in above lyrics?, Please let us know using contact form with correct lyrics!
Legacy Music Video
Legacy Song Info:
| | |
| --- | --- |
| Song: | Legacy |
| Singer(s): | Bintu Pabda |
| Musician(s): | The Kidd |
| Lyricist(s): | KP Kundu, Bintu Pabra, Amit Bhadana |
| Label(©): | Amit Bhadana |
Liked It, Share It with Your Loved Ones!